Swimming caps are very useful, not only do they keep your hair dry(or drier than if you are to not wear a swimming cap) but they also prevent hair getting in your eyes, and making you more hydrodynamic in the pool.
If you've looked at swimming caps you'll know there's different materials and different styles which all serve different purposes. We've compiled a sort of 'swimcap 101 below to show some of the more common (and a few of the lesser known) materials, styles, and why they differ.
Different Materials and Styles
Polyester: These aren't great at keeping water out, but they're the MOST comfortable, and really lightweight… If you find that latex or silicone caps tug on your hair, wear one of these underneath to stop that. Also, if you combine it it'll keep your hair dry as well as warm! This double layer is also good at ensuring that the chlorine stays AWAY from your hair.
Neoprene: Made of the same stuff as wetsuits, they're the most durable cap, and also the best for keeping your head warm!
Fun printed caps: these come in a variety of different prints; some even have fins on them to help you envision yourself as a fish. While they're designed for smaller heads, I, as a fully grown adult still wear my blue fin swimcap at every opportunity when I'm training. The fin makes you faster, or so I think.
3d moulded caps: these increase your hydrodynamics in the water. They don't have the seam, which means they're also slightly more comfortable and there's not as much extra space, as they're designed for the average head shape. You can get ones specially mapped to your head, but they're generally for swimmers of a high level as quite expensive.
Rubber fabric 'vintage' caps: For a cute look, and for fun when splashing about in the pool. They're not the most hydrodynamic, but you can look really cool!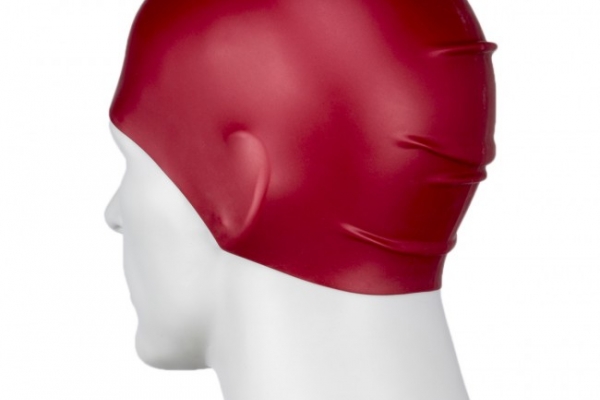 Long hair caps: these have more space at the back for a more comfortable fit. Having said that, your average silicone or latex cap should be able to stretch to a large size but that is more general, whereas this is specifically designed for those with long hair (comfortably fitting hair up to waist length).
Lycra: These are made to reduce hair tear making them very comfortable on the head and also lightweight. They feel much less restrictive than other swimming caps and are easy to put on and take off without damage to hair or skin.
Latex: these are the most budget friendly cap, and useful for wearing if you just want to test out whether a cap is for you. They're the classic fit and design and are are available in an extensive range of designs and colours. Make sure you check you don't have an allergy to latex before purchasing but don't worry if you are allergic to latex, just choose from our range of other materials instead.
We hope this has been helpful, entertaining, or both. We sell a variety of swimming caps on our partner site TheSwimmingShop- and have more information on our 'swimcap guide' so check out our webpage.
If you want advice on caps- or anything else- please ask your instructor; or comment below and one of our team will get back to you!